Fairmount
Philadelphia County, PA 19130
Empowering health, fostering wellness, and providing exceptional care for all.
Get in Touch
1608 Walnut Street, Suite 601
Philadelphia, PA 19103
Open Hours
Monday 10-6:00
Tuesday 7-3:00
Wednesday 9-6:00
Friday 7-3:00
Sat-Sun Closed
Our Services
At Rittenhouse Square Chiropractic, we take pride in offering a comprehensive range of top-notch services designed to enhance your overall well-being and promote a healthier, pain-free life. Our skilled and compassionate team is committed to providing exceptional chiropractic care, the cornerstone of our practice. With a patient-centered approach, our chiropractors are dedicated to understanding your unique needs and tailoring treatment plans that address the root cause of your discomfort. Whether seeking relief from chronic pain, injury recovery, or improved spinal health, our chiropractic care optimizes your body's natural healing abilities.
In addition to our exceptional chiropractic care, Rittenhouse Square Chiropractic provides a variety of specialized services to support your journey toward optimal health. Our state-of-the-art facility offers Spinal X-Rays, allowing us to gain precise insights into your spinal health, guiding our treatment decisions with accuracy. We believe in the power of Functional Medicine to address the underlying causes of health issues and provide personalized treatment plans. Our Softwave Therapy utilizes advanced technology to promote tissue regeneration and accelerate healing. Our expert massage therapists also offer therapeutic massages that aid in relaxation and pain relief. We also integrate strength, mobility, and therapeutic exercises into our treatment programs to improve strength, flexibility, and overall physical performance. With a focus on holistic health, we offer posture improvements, flexibility exams, nutritional counseling, and functional nutrition services, complemented by Personal Training and Exercise Programs to achieve your fitness goals. Whether you're seeking relief from pain, enhanced mobility, or personalized wellness solutions, Rittenhouse Square Chiropractic is your partner in achieving a healthier and more fulfilling life.




Frequently Asked Questions
What is Chiropractic Care?
Chiropractic care is a non-invasive healthcare discipline that focuses on diagnosing, treating, and preventing disorders of the musculoskeletal system, particularly the spine. Chiropractors use manual adjustments and other techniques to alleviate pain, improve mobility, and promote overall well-being.
What Conditions Can Chiropractic Care Help With?
Chiropractic care is commonly sought for conditions such as back pain, neck pain, headaches, joint pain, and sports injuries. It can also assist with managing chronic conditions like arthritis and improving overall spinal health and posture.
How Can Massage Therapy Benefit Me?
Massage therapy offers numerous benefits, including relaxation, stress reduction, improved circulation, enhanced range of motion, and pain relief. It can help with musculoskeletal conditions, promote overall well-being, and complement other treatments.
Can Chiropractic Care Help With Sports Injuries?
Yes, chiropractic care can play a crucial role in the management and rehabilitation of sports injuries. Chiropractors can provide targeted treatments to reduce pain, restore function, enhance athletic performance, and prevent future injuries.
Are Chiropractic Adjustments Safe For Children?
Yes, chiropractic care is safe and effective for children of all ages. Pediatric chiropractors use gentle techniques suitable for young patients to address issues such as colic, ear infections, and musculoskeletal conditions.
What Are the Benefits of Nutritional Counseling?
Nutritional counseling helps individuals understand their dietary needs and make healthier food choices, leading to improved energy levels, weight management, and overall health.
Can Chiropractic Care Improve Athletic Performance?
Yes, chiropractic care can enhance athletic performance by optimizing joint function, increasing flexibility, and reducing the risk of injuries.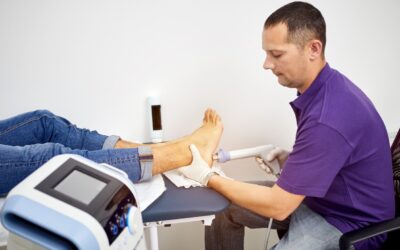 Plantar fasciitis, a common yet often debilitating foot condition, affects countless individuals, causing significant pain and discomfort. Traditional treatment methods, while effective for some, do not always provide the desired relief or long-term solutions. By...